Most likely you have already identified a

business idea

, so now it's time to balance it with a little reality. Does your idea have the potential to succeed? You will need to run your business idea through a validation process before you go any further.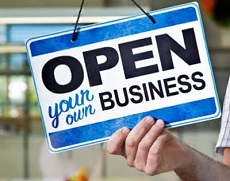 In order for a small business to be successful, it must solve a problem, fulfill a need or offer something the market wants.
There are a number of ways you can identify this need, including research,

focus groups

, and even trial and error. As you explore the market, some of the questions you should answer include:
Is there a need for your anticipated products/services?

Who needs it?

Are there other companies offering similar products/services now?

What is the competition like?

How will your business fit into the market
You need a plan in order to make your business idea a reality. A business plan is a blueprint that will guide your business from the start-up phase through the establishment and eventually business growth, and it is a must-have for all new businesses. The good news is that there are different types of business plans for different types of businesses.
If you intend to seek financial support from an investor or financial institution, a

traditional business plan

is a must. This type of business plan is generally long and thorough and has a common set of sections that investors and banks look for when they are validating your idea.
If you don't anticipate seeking financial support, a

simple one-page business plan

can give you clarity about what you hope to achieve and how you plan to do it. In fact, you can even create a working business plan on the back of a napkin, and improve it over time. Some kind of plan in writing is always better than nothing.
Step 3: Plan Your Finances
Starting a small business doesn't have to require a lot of money, but it will involve some initial investment as well as the ability to cover ongoing expenses before you are turning a profit.
Put together a spreadsheet that estimates the one-time startup costs for your business (any associated fees), as well as what you anticipate you will need to keep your business running for at least 12 months (rent, utilities, marketing, and advertising, production, supplies, travel expenses, employee salaries, your own salary, etc.). Those numbers combined is the initial investment you will need.
Step 4: Pick and Register Your Business Name
Your business name plays a role in almost every aspect of your business, so you want it to be a good one. Make sure you think through all of the potential implications as you explore your options and

choose your business name

.
Once you have chosen a name for your business, you will need to check if it's trademarked or currently in use. Then, you will need to register it. A sole proprietor must register their business name with either their state or county clerk. Corporations, LLCs, or limited partnerships typically register their business name when the formation paperwork is filed.
Don't forget to

register your domain name

once you have selected your business name. Try these options if your

ideal domain name is taken

.
Step 5: Promote Your Small Business
Once your business is up and running, you need to start attracting clients and customers. You'll want to start with the basics by writing and creating a

marketing plan

. Then, explore as many

small online business marketing ideas

as possible so you can decide how to promote your business most effectively.
Once you have completed these business start-up activities, you will have all of the most important bases covered. Keep in mind that success doesn't happen overnight. But use the plan you've created to consistently work on your business, and you will increase your chances of success.
Every day entrepreneurs think of great business ideas, but until the Power Lead System was built, these entrepreneurs struggled to get traffic, leads, and sales needed to grow and succeed in business.
Thanks for reading and visiting my website.
Did you enjoy this and get value? Please share on Facebook.
To your massive success, let's
break generational poverty and
WIN
together,

Miss Carla
email: misscarlamoore@gmail.com